The Chinese Ming Empire
The Empire of Russia
The Empire of Japan
vs
The Ottoman Empire
The Mughal Empire
The Great Asian War has begun! Empire's will clash and tear each other apart! Who will be the victor?
Assualt: July 1st, 1701
Edit
The Ottomans charge into Russia while the Mughals beat back China. Lines are still on the move.
The Lines have finally haulted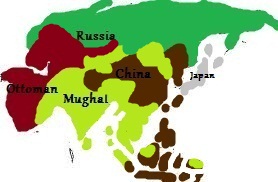 Ad blocker interference detected!
Wikia is a free-to-use site that makes money from advertising. We have a modified experience for viewers using ad blockers

Wikia is not accessible if you've made further modifications. Remove the custom ad blocker rule(s) and the page will load as expected.